Description

The Hard Truth About Sea Moss Supplements? Most Are Fake!
Naturalitic Sea Moss Complete helps boost Energy while enhancing overall well-being. It is a nutrient-dense superfood blend of sea moss, bladderwrack, burdock root, and BioPerine (Absorption & Bioavailability Enhancer) that includes all 102 minerals that our bodies contain with no fishy aftertaste.
Sea Moss Complete Blend Promotes
Energy
Skin &nails
Digestion
Immunity
Joint health
Libido
Weight Loss
Much Easier Than Making Sea Moss Gel
Sea Moss is a true superfood – one of Mother Nature's greatest gifts – rich in powerful compounds that provide numerous health benefits. However, there are two issues that make regular consumption of sea moss difficult:
Not everyone enjoys the taste. Even if you do, it can get old quickly.

Making sea moss gel is a laborious process that is frequently messy, long, and frustrating.
Sea Moss Complete Blend is individually capsulated with sea moss, bladderwrack, and burdock, and easy to take on the go in a conveniently sized bottle. There's none of the hassle of making sea moss gel, and none of the fishy, repetitive sea moss flavor.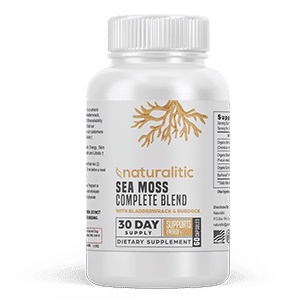 NO HASSLE
NO FISHY TASTE
NO PROBLEM!
4 All-Natural Ingredients For Optimal Energy and Overall Well-being

Irish Moss (whole plant)
Sea moss is referred to as a "sea miracle." This is because it contains 92 essential minerals that our bodies require.
One of the best plant sources of omega-3 fatty acids is seaweed, particularly Irish moss. These fats are necessary for heart health. Getting enough omega-3 fatty acids has been linked to a decreased risk of high cholesterol, heart disease, blood clots, and high blood pressure.
Bladderwrack (whole plant)
Dietary fiber, minerals, and vitamins are abundant in bladderwrack seaweed. It's well-known for its excellent macro- and micronutrient balance. It fills in the gap of the other 10 minerals that sea moss does not have to make 102.
According to research published in the journal Marine Drugs, bladderwrack contains a variety of bioactive compounds that are antioxidants, anti-inflammatory, anti-tumor, anti-obesity, anti-coagulant, and anti-diabetes.
Burdock (root)
Chemicals found in burdock may aid in the fight against bacteria and swelling. It's used to get rid of toxins and as a "blood purifier" in traditional Chinese medicine.
Individuals use burdock to treat aging skin, stomach problems, joint swelling, and a variety of other ailments.
BioPerine® (fruit)
BioPerine® is a patented black pepper extract that has been clinically proven to increase the absorption of several key nutrients.